Phoenixville Pet Boarding
A Family-Owned & Operated Pet Resort

Your dog or cat will be happy, loved, and well cared for when boarding at Hickory Springs Farm pet resort. That's because you can tailor your pet's care to exactly what he or she needs.  Our Phoenixville Pet boarding services include a full range of à la carte vacation options for your pets.
Fun-Filled Boarding Activities
It's More Than Dog Boarding, It's Adventure Vacations
Do you have a dog with boundless energy?  We offer plenty of burn-up-the-energy options for the dog who likes to get up and go.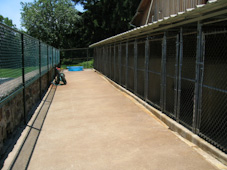 Imagine your dog enjoying his day in an indoor-outdoor run that offers up to 198 square feet of freedom. He can rest up in the climate-controlled indoor area or play in the sunshine. And we only close the sliding door between the indoor and outdoor runs when it's necessary to assure his comfort and safety, while we are cleaning, and at night when we close the kennel.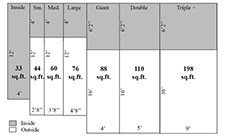 Most likely he'll feel comfortable to go to the bathroom in the outside run. If not, we'll automatically take him on three potty outings a day for no extra charge.
If your dog passes our 'favorable temperament test', schedule some supervised group play time for him in our fenced-off yards where he can hone his Frisbee and ball-chasing skills…and much more. Arrange some 15-minute leashed walks for him to explore our 16-acre sanctuary in the rolling hills of Chester County.  Or, if you want to challenge his inner athlete, enroll him in a 30-minute workout on our agility training course.
Cat Boarding
Cats staying at Hickory Springs Pet Farm will luxuriate in our feline indoor-outdoor runs. Cats can enjoy unlimited bird watching and sunbathing or curl up in a cozy indoor spot whenever they like.
Rest assured, we do everything possible to make your cat's stay relaxing and enjoyable. We minimize stress by ensuring they cannot see other cats from their runs and by providing sheltered beds. Also, to help your cat feel at home, you can bring a small piece of it with you – a blanket, a cat bed, a catnip mouse or other favorite toy. Finally, your cat will enjoy an abundance of petting and play courtesy of our cat-loving staff.
Destination Spa
Perhaps you have a pampered pooch, or a cat that luxuriates on laps. If so, create the spa vacation of their dreams by signing up for one-on-one cuddle-time and professional dog and cat grooming.
Boarding School
Envision coming home to a dog that is better trained than the one you left behind.  Your dream can come true with our boarding school program.  Because in-kennel training is consistent, it's quick and effective.  If you're going away for one week or more, we can provide all the basic training your dog needs.
Special Needs
We offer an indoor-only section which is reserved for puppies, geriatric dogs or any dog with special needs.
Activities
Exercise walks
Cuddle time
Group Play
Daycare
Agility Workouts

Delicious Food Choices
On the Menu
Our main menu option is the all natural, vitamin-fortified kibble, Annamaet dog food. We top it off with a dollop of wet chicken and rice, and garnish it with low-fat, low-sodium chicken broth—creating a temptingly tasty and naturally nutritious meal that's a real crowd pleaser.
Custom Creations
Despite our gourmet offering, your dog might need something extra special. If you want to bring food from home, we're happy to prepare it—anything from homemade macaroni and cheese to chicken and rice, or mixed wet and dry food.  There's no extra charge as long as you pre-portion any dried food.
Special Treats
Add a little extra joy to the day for your dog or cat with one of our special treats:

Frozen Peanut Butter Kings
Frosty Paws (Doggie Ice Cream)
Biscuits and gravy
Tuna on Ritz
Catnip with a toy
Kennel Care and Pet Safety
Our kennels are thoroughly maintained and disinfected daily to ensure your pet's health. Any sign of discomfort or irregularity is reported to your veterinarian or an emergency clinic immediately.
Our Requirements
For your pet's health and safety we require current vaccination records for Rabies, DHPP and Bordetella.  We encourage all owners to provide us with your dogs PA state license number. You can apply for a dog license here. Clients must provide us with the Rabies certificate that shows the Veterinarians signature and the Rabies Vaccine lot number.
"Hickory Springs Farm is a top notch kennel, providing superior and professional services on many different levels.  In my experience, I have found the boarding and grooming departments to be attentive and accommodating, with a caring and knowledgeable staff ever present." – Ann Lucci
Schedule Your Pet's Vacation
If you're scheduling your pet's first vacation with us, fill out the Boarding Registration Form to help us make sure your pet's stay is as comfortable as possible. Returning clients do not need to complete the form.
Click here to view our pricing.
Book your pet's boarding vacation at Hickory Springs Farm Kennel in Phoenixville by calling us at 610-933-9584 or emailing us at info@hickoryspringsfarm.com.  Hours: Monday – Saturday 8:00 a.m. to 5:00 p.m.