Activity and Fun for Your Best Friend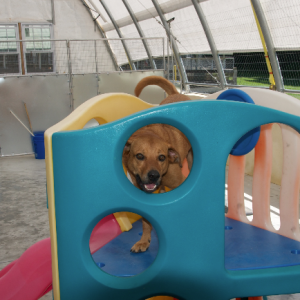 Do you look into your dog's sad eyes when you leave for work or to run errands?  Do you feel guilty leaving your dog home alone?
Your feelings are understandable.  Dogs are pack animals that need to socialize and play to stay healthy and happy. That's why we offer doggy daycare—to provide a safe and healthy environment where your dog can play and interact with other dogs off the leash.
Our Phoenixville doggy daycare can enrich your dog's spirit, increase her social skills, provide physical exercise, and stimulate her mind. Your dog will play in a large heated and ventilated indoor pen or an outdoor pen, depending on the weather. Also, she'll be put into a supervised play group based on her size or temperament, so play is a safe, year-round activity.
Just as in daycare for children we have toys and equipment—balls, Frisbees, pools, and slides.  Dogs create their own fun or join in on one of the organized games.  And if all the activity makes them hanker for a little shut eye, they can take a quick dog-nap on one of the beds.
Doggy Daycare Basic Requirements 
4 months or older
Spayed/neutered over 6 months of age
For your pet's health and safety we require current vaccination records for Rabies, DHPP and Bordetella.
Temperament Screening — All dogs must pass a temperament test to assure that they are friendly with other dogs and people. You may bring your dog for screening Monday through Friday from 8:00 a.m. to 4:00 p.m and Saturday 8:00 a.m. to 5:00 p.m. Appointments are appreciated but not necessary.
We recommend that you make a reservation for your first visit.
Daily Schedule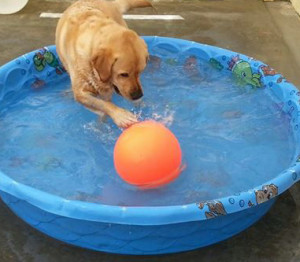 The doggy daycare is open from 7:30 – 5:30, Monday through Friday. Drop your dog off any time and select the play package that meets your needs:
Five hours of play or less = half day
Over five hours of play = full day
"I started using Hickory Springs Farm's doggy daycare after my work needs added an hour commute each way. It made the day too long for my dog Chloe to be in the crate. She really enjoys spending the day with her canine buddies. I have peace of mind knowing she is in good and loving human hands. We love the groomer there too. A great place for dogs!" – Leslie Bryson
"I cannot say enough about Della who runs the daycare. Tala, my dog, perks up when I tell her she is going to see Miss Della. She obviously loves the dogs, cares about them and takes the time to do what is best for each of them. She is a wonderful caregiver for the dogs." – Stephanie Kershner
Click here to view our pricing.
Fill out our daycare enrollment form now.  Book your dog's doggy daycare session at Hickory Springs Farm Kennel in Phoenixville by calling us at 610-933-9584 or emailing us at info@hickoryspringsfarm.com.  Hours: Monday – Friday 7:30 a.m. to 5:30 p.m and Saturday 8:00 a.m. to 5:00 p.m.