Phoenixville Kennel Staff Bios
Barbara and Hartley Connett – Owners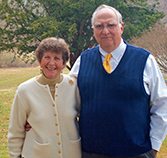 They have owned Hickory Springs Farm Boarding Kennels for twenty two of the forty two years of establishment. Their priority is to provide a safe, clean and comfortable environment for all of their guests. They have a pet of their own and enjoy tremendously the satisfaction received in caring for the members of your family. They welcome you to come and visit the facilities and look forward to having your pet as their guest.
Allison Connett – General Manager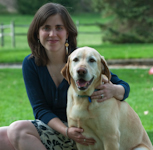 Allison left the corporate world and began work at Hickory Springs
 Farm as the General Manager in February 2006.  She graduated from Franklin and Marshall College in 2001 with a BS in Psychology and after joining the HSF team earned her ABKA Pet Care Technician Certification.  Allison and her husband, Tom, live on Hickory Springs Farm with their three children and two labrador retrievers, Jonah and Stryder and a cat named Gracie.  Allison oversees all daily operations including Boarding, Grooming, Training and Daycare.
Della – Daycare Manager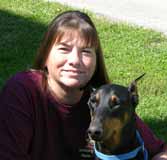 Della continues to be a very important member of our HSF team.  She is "top dog" out in Daycare and her pack knows it!  She makes a point of getting to know each dog so that she understands their personality and play style.  A hard worker and a true dog lover, Della is a big part of what makes this place special.
Gordon Yeo – CPDT-KA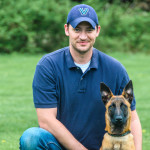 Gordon is a certified professional dog trainer who has dedicated his life to the study of dogs. His passion and compassion for dogs is inexhaustible. He has trained all over the country and internationally in numerous areas ranging from behavior modification, competitive agility, IPO, SAR, and detection among others. Gordon works closely with Home at Last Dog Rescue, helping them evaluate, train, and re-home some of their more troubled dogs. He also has a passion for working dogs and is in the process if raising his Malinois puppy Guile to cross train in IPO, geese control, and wilderness SAR.
Amy – Certified Groomer and Groom Instructor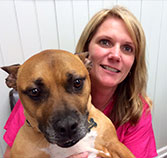 Amy has been grooming dogs since 1990 when she graduated from the New York State School of Dog Grooming. Over the past 20 years she has made it her passion to improve dogs' well-being with her vast experience in grooming. It is unlikely that you will have a request she hasn't heard of (and probably accommodated) before. From trims, shaves, nails, ears and even coloring, Amy can do it all. She currently owns Snarf (Pit-bull/Corgi Mix) Dude and Bear (Chesapeake Bay Retrievers). Her passions and hobbies rest with her career – making dogs' look and feel beautiful!  Amy is also a certified grooming instructor and we are excited to provide her the opportunity to start a grooming school here at Hickory Springs!