About Hickory Springs Farm Kennel
Our clients tell us they choose Hickory Springs Farm pet resort for the following reasons.
A Family Owned and Run Phoenixville Pet Resort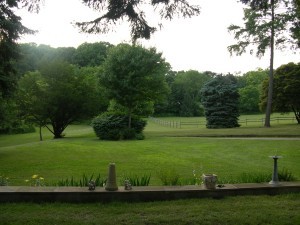 Hartley and Barbara Connett have owned and operated Hickory Springs Farm Kennel for more than two decades.   Their son and daughter-in-law, Tom and Allison Connett, are also deeply involved in the business.  Because of the Connett's commitment to offering the best care for each animal outside of their own home, the kennel has essentially evolved into a pet resort that includes a pet hotel as well as pet spa, training and daycare.
24/7 Care
Unlike some kennels, the Connetts live on the property. You can rest assured they are here, close to your pet, 24 hours a day, 7 days a week.  To assure safety and comfort of all boarders the Connetts tour the kennel every night between 8 and 10 o'clock.
Home Away from Home
The Connetts and kennel staff treat your pet like their own. For example, if your dog wants homemade macaroni and cheese or chicken and rice for dinner, that's what they'll be cooking up. And whether you want your pet walked, cuddled, groomed, or engaged in active games, we'll take care of it.
The Veterinarians Choice
Just ask your veterinarian which kennel they'd recommend. Many clients come to us after asking that question.
Indoor-Outdoor Kennel Runs
If you don't want your dog cooped up inside, bring them to our kennel where they can enjoy the fresh air whenever they like.
What Our Clients Are Saying 
You are all wonderful Lucy loves you! We have used you since 1975! This is the third dog to use your services and we would not go anywhere else. – Janice & Ray Seay, Paoli, PA
Hickory Springs is Max and Sadie's home away from home. I truly thank you for the excellent care all my dogs have received. We would never be able to go on vacation without you guys! –Sarah Walker, Downingtown, PA
Hickory Springs is a great facility. The people are very kind, experienced and thoughtful.– Jim Lennon, Chester Springs, PA
Book your pet's vacation, grooming or training session at the Hickory Spring Farm Phoenixville Pet Resort by calling us at 610-933-9584 or emailing us at info@hickoryspringsfarm.com.  Hours: Monday – Saturday 8:00 a.m. to 5:00 p.m.